Best Shower Panels in UK – Do want a good brand of shower panels in the United Kingdom? Want to install shower panels? Looking for good brands which can help serve the best for you? We bring some of the top known names which are known to offer best shower panels in UK for your bathroom. They are stylish and offer a greater version of functionality while you have the best shower experience in your life.
One of the popular hits when it comes to handy yet luxurious bathing are shower panels! You can actually enhance the experience by enrolling yourself into this journey of best shower panels in UK. Go for contemporary, traditional or modern etc, these panels have wide options like heat and cold technology, with temperature control and pressure control and much more.
You can have the best experience by installing the best shower panel in UK! The rain shower is good but nothing competes for a waterfall for sure which is the essence of installing such panels at your home.
What are Shower Panels?
Think of a shower system costing from the hose to head to everything you can virtually think! Shower Panels are a complete package of this which includes shower system and fixtures. Unlike the traditional rainfalls that our shower system provides, Shower panels can help you control the amount of fall on your head. You can choose the twinkling drops or have a heavy waterfall.
Shower Panels are a new introduction and many times they are costly due to the huge benefits they are giving you. Believe me or anyone, they are worth spending due to the high-quality functioning they provide. Now that old cranky geyser can be utilised in the right way. Now you do not have to compromise with the wish of having the correct temperature of the water. Many of these panels offer your temperature control system to which there are much more!
Know The Types Of Shower Panels:
The edgy and stylish look is what we all love and demand! Have a look at some of the types of shower panels available in the market for you.
Acrylic Panels
Glass Panels
Metal Panels
Plastic Panels
Many more
What Are the Advantages of Owning Shower Panels?
When it comes to shower, one thing that is in demand these days are shower panels! Think of sudden guests arrival or relatives, they will all be interested in having a look of your beautiful house. Installing a shower panel can make it a great start for sure for beautiful experiences.
The benefits of installing shower panels at home are as follows:
They are easy to install.
The installation process goes minimum changes in the bathroom.
Ideal for small bathrooms with minimum space.
If you want to make your bathroom look spacious, this is a good option.
The look of shower panels is sleek and stylish which is the essence of installing one in your bathroom.
A variety of luring features which help you get a spa-like treatment at home.
Easy when it comes to maintaining and cleaning.
They save water as water saving programs is installed.
Economic to the environment and your pocket on bills.
Save energy and reduces unnecessary wastage.
They give a complete look for every bathroom whether commercial or personal use.
They are durable and have a long shelf life.
Tips To Choose Shower Panels For Your Bathroom
Before jumping into any of the conclusion, we give you some tips on how to choose best shower panels in UK.
Start From Your Bathroom: Ok! Space is not a problem with it but surely it can be troublesome if you did not get the space right! Look for the corner as well your own space for this purpose. Be careful with at the fixtures and fittings which will match the whole interior because if this went wrong, it will make a mismatch of its own.
Look For Features: Shower panels have wider features and benefits to offer which may times differ from brand to brand. So, go for good features for sure.
Go For Costing: No offence, they are mostly a costly affair but believe me, they are an investment. You will realise when you once install it in your bathroom.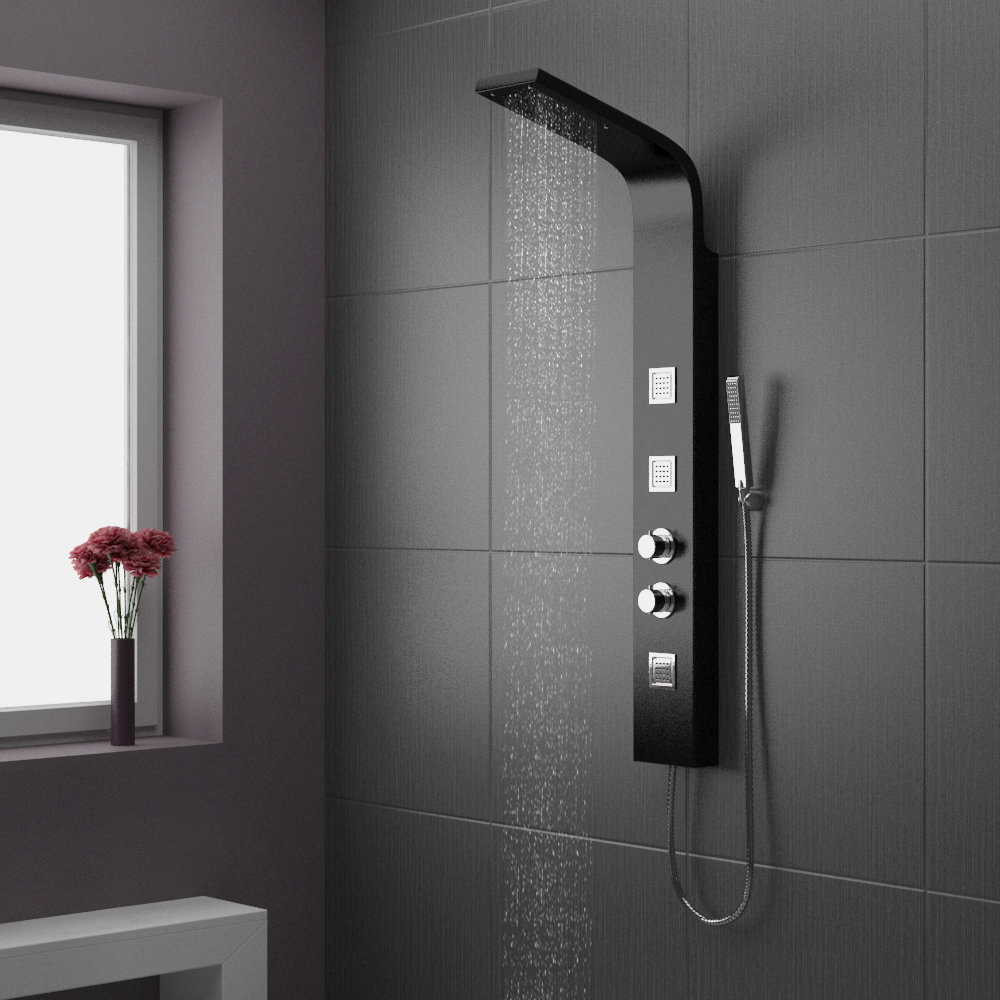 Top Selling Brands Of Shower Panels In The United Kingdom
Know the best shower panels in the UK which are as follows:
Hudson Reed
The brand is United Kingdom's known household name when it comes to bathroom articles. They offer a wide range of shower panels which are cost effective and features are luring.
Hansgrohe
More than 100 years of success, Hansgrohe is a brand that you can trust. They one of the top brands currently and offer economic designs and a large variety of options. All the products are full of quality.
Grohe
One of the leading name when it comes to showers, Grohe is also a popular name in the United Kingdom. The products are made using the latest technology and superior materials.  They offer huge range when it comes to finish and design with good features.
Conclusion
Shower Panels make a great decor and give a stylish look to the simple look and even the dull look of the bathroom. They are effortlessly genuine and look as an investment in the long run which will never disappoint you.