Best Wall Mounted Towel Rails in UK – Want to install best towel rail at your home? Looking for a wall mounted towel rail in the United Kingdom? Do you want a quality towel warmer? Towel rails are very popular in European houses and hotels. Cold towels are never welcomed by anyone. Heated towel rails help you overcome this issue. Want to install it in your home? In this post, we have listed some of the best wall-mounted towel rails in UK.  
Whether you own a small bathroom or large bathroom, the market has widest options over heated towel rails. Wall mounted heated towel rails are the best option for all the range. The rail offers you good space and heating at an affordable range. It looks promising and stands to all the promises of being stylish, elegant yet simple. The brands of today are offering luring features which make it a functional part of the bathroom. Know the best wall mounted towel rails in UK for you.
Heated towel rails give an edgy look to the room and keep your cold towels warm and cozy. If you are a person with a big family, then it is a must for you. In case your towel is being frequently used then it can be a wise choice.
Types Of Heated Towel Rails You Can Opt For
Heated towel rails have many transformations to incarnation which you will love to have in your bathroom. These designs will help you get free bathroom space and full of features for sure. The following are the types of heated towel rails available in the market:
Combination Towel Warmer/Radiator
If you have a radiator and want to add towel rail then this is a good option for you. The hot water supply should be well connected with towel warmer just as the radiator was. The water will run through the horizontal racks and keep the towel warm without mold and mildew.
Electric Towel Warmer, Wired With Switch
As the name suggests, it uses electricity. The rail is directly connected with the electrical system. You can switch on and off whenever you want.
Electric Towel Warmer, Plug-In
This design is simple and easy to installation. This model comes with a plug. Just Plug In to start and Plug Out to turn off. If you use rails occasionally like for a season then this can be great for you.
Hydronic Towel Warmers
These heated towel rails need electricity for operation. It has a thick gel fluid inside those racks to dry and warm up the towels. The gel is present in two forms. The cooler gel flows to the bottom. On the other hand, the warmer gel rises and flows through horizontal bars with the help of a small pump installed inside the wall. They operate continuously.
Towel Warmers With Overhead Rack
The best combination of a radiator, hydronic, and electric heated towel rails. The best part is that you can dry wet clothes, hand washable items like lingerie etc.
Buying from a trusted brand ensured good quality along with durability which is needed in the long run. If you want to have the best for your bathroom, we have listed the best wall-mounted towel rails in UK.
The wall hung a heated towel rail is a good option for those who love traditional look. It is easy to install and very affordable. The simple yet stylish look overrule every design of towel rail. It has good features to offer and warms the towels perfectly.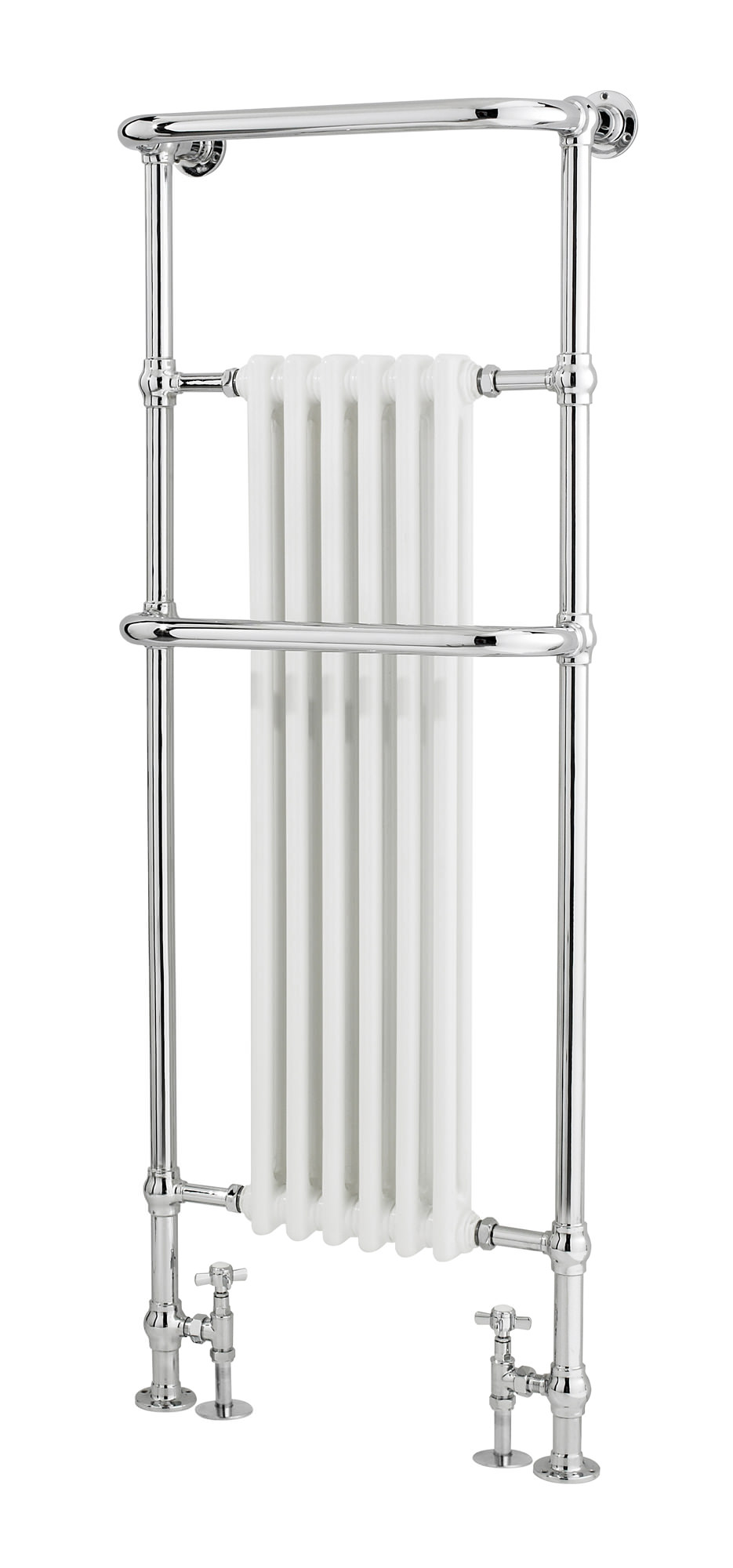 Hudson Reed has been one of the best brands in the United Kingdom when it came to bathroom articles. The heat out is great and gives the best-required performance that a heated towel rail should give. The quality finishing and designing gives it an edgy look.
Florina Wall Mount Water-Fed Heated Towel Rail
The wall hung towel rail is strong build and durable in nature. The high-quality steel finish with polished chrome finish makes it a good deal. If you have a central heating system, then it is ideal for you.
Conclusion:
Buy heated towel rail at best quality. When you buy a quality brand, it helps make the costly affair an investment in near future. If you are in search of such a thing, then the above brands offer the best experience for you. I hope the article was of good use to you.