Heated towel rails are a great way to warm up a bathroom, while giving you the opportunity to slip into a deliciously dry, warmed up towel after your bath or shower. If you are wondering how to go about buying a heated towel rail, here are Key tips from Global bathrooms, the leading supplier of heated towel radiators and heated towel rails in UK.
Choosing the perfect fit:-The size of the heated towel rail should be chosen in relation to your bathroom size and also the numbers of people using the bathroom. The larger the bathroom or number of people, the larger your choice of heated towel rail. Keep in mind that one group of bars is enough space for one bath sheet.
Over 15 years of commitment to top quality, reliability and exceptional durability have made Global Bathrooms is one of the UK's leading heating manufacturer and supplier. We have built our reputation on delivering products which are straightforward, dependable and designed to suit all types of bathrooms i.e. Traditional, Contemporary or Modern styles.
The heated towel rails have a thermostat in them so you can control the temperature sufficiently while providing automatic functioning so you don't have to worry about forgetting to turn it off. Additionally there is a safety fuse which acts as an additional safeguard against overheating.
Treat yourself to the luxury of warm fluffy towels when you are going out of the bath or shower. And thanks to this fabulous collection from Global bathrooms you'll love looking at your towel radiator as well as using it. Our experts have a keen eye for detail and improvement and leave no stone unturned when searching for the best towel radiators in terms of top quality, design and genuine value for money.
Our collection includes electric radiators and central heating radiators, and dual fuel models (for warm towels even when the central heating is switched off).
Stepping out of the shower or bath into the embrace of a big fluffy warmed towel is one of life's best little indulgences, a lovely way to begin or end your day. Why hang up your towel on a cold, lifeless rack when you can give yourself the gift of toasty ones every day? A few years ago, towel warmers were measured a purely luxury item, reserved for only the fanciest of bathroom suites. Now, with a huge range of price points from the truly reasonable to the super-luxury, they have become a common choice but cherished feature in many modern bathrooms.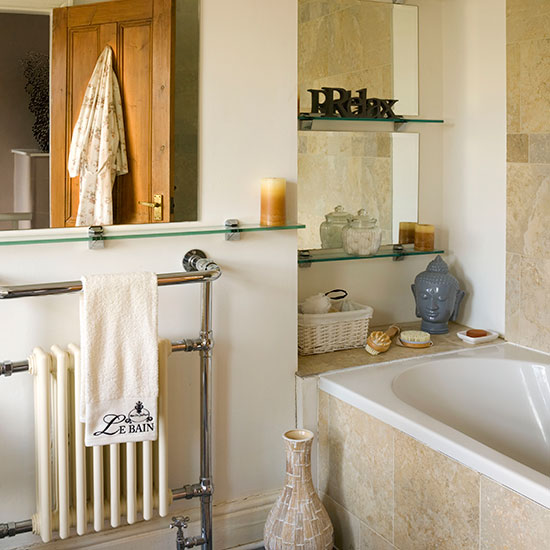 Choosing the right product for your home will ensure that you and your family can enjoy many years of warmth and comfort from heated towels. Investing in an electric towel rail isn't just a move towards comfort, most often a well financial and environment friendly choice as well. By warming just the bathroom instead of the complete house, it's possible to cut down your energy costs significantly. They also work to dry towels between uses, helping you save time, money, and energy on laundry.
Create a safe, comfortable, healthier bathroom surroundings with stylish heated towel rails from wide collection of Global Bathrooms and enjoy the luxury of warm dry towels.
Complement the surroundings with your heated towel rail or choose to make a bold statement with one. Our range of traditional heated towel rails add a touch of style and accuracy to your bathroom.